There are hundreds, maybe even thousands of dating websites that host single's profiles. Where does one start? Do you begin alphabetically and work your way down the list, hoping to find someone who thinks and believes what you do? Do you randomly create profiles and paste them wherever, hoping they have good visibility? Is it possible to make your search quicker and easier? Yes, it is.
The best place to post your profile is on a niche dating site. And if you are Catholic, Catholicmingle.com is the place to start. Standing out beyond the mainstream dating site, the Catholic Mingle dating website is well known within the online singles community as the place where Catholic singles meet, date and fall in love with other followers of the Catholic faith.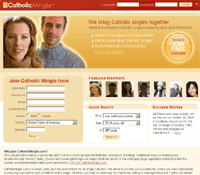 So if you are searching for the love of your life and would like it to be based on the shared Catholic faith, then do read on. Because what's great about signing up with this Catholic singles website is you know that the profiles you browse will also share in the same belief and values as you. Eliminating this guesswork allows you to focus on other smaller factors and similarities that also may be important to you.
With Catholicmingle.com, they also offer features like searchable scriptures and spiritual icebreakers. They take their core belief of Catholicism and follow it through their entire site. And with 26% of the population estimated to be Catholic, they will have thousands of personals for you to browse through. These Catholic singles' profiles are not limited by region and are open to Catholics around the world. However, the majority of their profiles are U.S. based, with California having the most Catholics and profiles listed.
It is hard enough sifting through thousands of profiles, pictures and information on single people in your area. They can get all jumbled in your head and you may even mix people up. Limit your initial searches to what you are. And if you are Catholic, start there.