What are some of the qualities you look for in your dates? For some of us, looks, humor and success are important. But isn't that just skimming the surface? If we look deeper, wouldn't it be nice to meet someone who also has a sense of community, who is hard working, who is giving, who always looks towards the future, who appreciates the past and embodies the traditions of his/her culture? Okay, these qualities may or may not be on your list, but it could very well be on your parent's list.
The bigger question is where do you go to meet other Jewish singles that not only fulfills your parent's wishes, but also piques your interest and attracts your senses? Maybe the answer lies in meeting the right Jewish matchmaker who will hopefully connect you with your perfect mate. Perhaps you can start attending Synagogue mixers or Sunday singles' barbecues. But for those of us who have not met our perfect mate or haven't found anyone through social mixers or just need a new, fun and effective way to meet and date quality Jewish singles, there is online dating.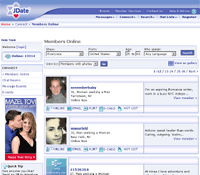 While there are many online dating sites, only a few are truly in touch with the needs of today's Jewish singles community. More specifically, in the context of Jewish online dating, the one true choice is JDate.com. JDate understands the challenges of finding suitable matches and offers a fun, dynamic and effective environment for you to meet and date. At J Date, you can meet great people outside your usual circle, date fun and vibrant Jewish singles that appeals to both your heart and soul and marry within the faith, which will surely make your family proud.
In large measure, JDate is the place of opportunities for all Jewish singles. For example, did you know that one out of every ten Jewish singles is on JDate.com? Additionally, while most online singles sites typically have a 7:3 split between male to female members, J Date is one of the few online dating sites that offers an even playing field. Approximately half of JDate's membership is from single Jewish women. Lastly, JDate.com's mass appeal continues to attract approximately 15,000 new members each and every month and have resulted in hundreds of marriages from couples that have met through JDate's online services.
So, isn't it time to get started? Create and post your free JDate profile today. Since your profile is the first impression you will make with your potential dates, always be honest with your information, be positive in your essays and be yourself in your pictures. Be true to the previous 3 suggestions and rest assure that people are emailing you because they are interested in getting to know you versus the fictitious version of the real you.
Once you have completed the sign up process, you will have access to all the available tools and pertinent information to find your next exciting date. You can start by searching through J Date's extensive database for Jewish singles in your area and from across the world. Read the profiles to get a sense of compatibility. Browse through the profile's photo gallery to measure your sense of attraction. Once you have located a profile that strikes a chord at your heart, be sure to send a free teaser message or add their profile to your hotlist. Let your potential date know that you are interested in getting to know them better.
Now, if you are on the receiving end of a teaser or a hotlist, what should you do to show mutual interest? Start an online conversation with potential date either through email exchanges, instant messaging or chat rooms. This will allow both of you to learn more about one another while still maintaining your anonymity. Consider it as a pre-screening process to help determine if a date is the next step. So, open yourself up through conversation and see if he/she may be the one for you.
Lastly, we need to point out the difference between free membership and premium membership. With your free membership, you can search and view other members' profiles, receive and reply to instant messages when you're online and send teases to other members. But if you wish to have complete access to all of the available communication channels like email, instant messaging, and chat rooms, you will need to subscribe to one of JDate's premium membership packages. Select the JDate membership plan that is right for you and enjoy the convenience and the exhilaration of meeting other quality Jewish singles for friendship, romance and more.
Jewish Singles: Although JDate.com may be the best choice for many Jewish singles, it may not be the right fit for everyone. If you are interested in something slightly different, then consider trying JewishFriendFinder.com or JewishMingle.com.
Non-Jewish Singles: As indicated in our review, JDate.com was designed specifically for the Jewish singles community. If your interest lies in something not so specific, then you may want to try singles sites like eHarmony, Spark.com or Match.com. These popular online dating sites offer a diversity of singles from all walks of life, all professions and all ages.