FriendFinder.com is an online dating site that's focused on providing boundless opportunities and exceptional tools for singles to make new friends and to meet new dates. Friend Finder isn't about just being hip and cool; they're truly committed to making your online dating experience effective and rewarding. Imagine the possibilities of being in a community of over 3 million like-minded singles. Better yet, try Friend Finder and live the actualities of achieving your ultimate relationship goals.
Typical of most other online dating services, it's free to create a profile at Friend Finder. Adding photos, voice greetings and video greetings are also free services and come highly recommended. Free members have access to many of FriendFinder's features such as their chat rooms, message boards, and instant messaging. Yes, chat rooms, message boards, and instant messaging. We stated it twice because most online dating services providers usually reserve these features for their premium members (paying members). So, go ahead and knock yourself out with one of FriendFinder.com's many chat rooms or with instant messages to someone that you find interesting.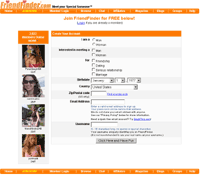 Having a great profile is essential to the successes you'll have online. To make your Friend Finder profile stand out from the dating crowd and pique the interest of prospective visitors, try taking Friend Finder's Personality Love Type survey. This survey will guide you through various topics that may be of interest to your visitors. Topics like your demeanor, your spending habits, your leisure habits, and so on. Ultimately, these answers will allow you and your visitors to quickly determine if there is a mutual match.
For those of you who don't have a lot of time to surf for profiles but would hate to miss out on meeting someone special, Friend Finder offers Cupid. Cupid is an automated service that combs through the database of profiles to find new Friend Finder members that will match up to your search requirements. Friend Finder then sends you a weekly cupid report with these matches. It's a great tool to help you find members who you may have missed. So visit friendfinder.com when you can and don't worry about the details.
Lastly, how would you feel if you find yourself on the receiving end of a captivating smile or a flirty wink? Great naturally. Online, you will have these same natural highs when you are on the receiving end of a Friend Finder wink. This is especially true if your wink was reciprocated. Even though nothing was said, the message is pure mutual attraction. To keep the momentum going, you will need to follow up your winks with personalize emails. But to do so, you'll need to subscribe to one of Friend Finder's reasonably priced membership plans.
As a FriendFinder premium member, you'll have complete access to member photos, video greetings, and profiles. You can send unlimited email to all members. You'll get noticed first by showing up at the very top of other member searches. You'll get this and much more at FriendFinder.com. So turn off the TV and put away the books. Don't wait for fate; make it all happen by exploring the possibilities at Friend Finder.