The best things in life are at your fingertips. We assume that you know this because you have decided to try online dating for a chance at love and romance. As part of the sign up, you'll be creating a personal ad that will be shared with other singles that are searching for a person just like you. To make a great first impression with these prospective singles, you'll need to produce a profile that will lure and intrigue them.
If you are not sure how to do this, then read this Match.com article on how to make your profile stand out from the crowd. The work that you put into developing a winning personal ad will help you achieve the success that you have always wanted.
---

3 Ways to Update Your Romantic Resume
By Wendy Lyons
When changing careers, you don't typically lie on your couch and expect your next dream job to ring the doorbell. The wise job hunter gives his or her luck a jumpstart by compiling a resume that helps you stand out from the crowd and get an interview.
Snagging a great new date online works the same way: You market yourself. Take the professional approach to the personals, and make yourself stand out in your match's next quick search!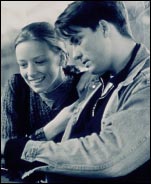 The dating resume
The chronological approach is straightforward and factual. Imagine how it might work for a man trying to sell himself to a romantic partner:
Man seeks pierced girlfriend
1995 - 1997 – first dates with Jill, Jane, Jessica, Jordan, and Jasmine
January - April 1998 – nearly hooked up on with Jordan, but learned her belly ring was a clip-on
Here's the same fellow with a business-like focus on quantifiable achievement:
Romantic explorer seeking pierced adventuress
Delivered witty one-liners to achieve first dates with 79% with all sorority sisters approached
Displayed 180 lbs of macho sensitivity that made a steady date swoon regularly
Invented eye-surgery procedure that allows patients to distinguish belly clip-ons from posts at a distance of 14 feet
Okay, so you probably don't need to go quite that far in preparing a love resume, but you can gain some tips from the 9-to-5 world to help you make the most of online dating.
State your objective
Use the headline in your free profile to tell the world what you're all about. Be catchy and informative. Use an appealing tone to describe yourself and your goals. You might not do it in a job resume, but when seeking romance, a metaphor can be a cute sales tool: "Sexy NJ tomato ripe for the picking," for example.
Highlight positive qualities and be specific
Just like in your work resume, don't make apologies. Instead, in your profile, keep the focus on the positives you bring to a relationship, while remaining discrete and appropriate. To avoid confusion, illustrate your good points; instead of simply describing yourself as "fun-loving," try something like, "On Sundays I love cappuccino and bagels, followed by alligator-wrestling."
Personalize the cover letter
When you connect with a potential new date, avoid form-letter introductions. Instead, take the time to craft a brief, personalized note. You can really impress someone by responding directly to a specific idea or topic in his or her profile.
Update your free profile today and let your romantic resume help you schedule your next date!
---
Match.com is a leading online dating service. For more information on Match.com, read our Match.com Review.
It is fun and easy to get started in online dating. Get things rolling right now by Joining Match.com or reading our article on getting started in online dating.