Date.com, a popular online personal ads website, has helped bring online dating to the mainstream by providing a safe, secure and convenient environment for singles to meet. All the major media avenues have recognized this trend by featuring Date.com as one of the movers and shakers within the burgeoning online dating industry.
Although it is true that online dating has grown to be the most popular and socially accepted method of meeting singles, one concern associated with online dating is the increasing imbalance between the numbers of men to women participants. While most singles sites typically have a 7:3 split between male to female members, Date.com is one of the few online dating sites that have bucked the trend. Of the 2+ million members at Date.com, over 900,000 of them are women. This is a remarkable achievement that truly defines Date.com as the place of opportunity for all interested singles.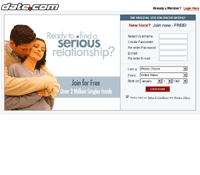 Date.com isn't about casual dates or quick hook ups; it's about meeting and forming long lasting relationships with other quality singles in a feature rich and cost-effective environment. To take full advantage of what Date.com has to offer, you'll have to first become a member. The membership process at Date.com is short and easy. Date.com has one essay question to help you reflect on who you are, your interests, and the type of person you are looking for. You'll also answer a variety of multiple-choice questions on topics such as your body features, your social habits, your career, and so on. At the end of the sign up process, Date.com will screen your profile to ensure that the content adheres to their high standard of conduct.
Re-launched in 2000 as a subscription service, Date.com now offer both free and gold memberships. If you are new to online dating, then you should consider signing up for the free membership. It's a great way for new singles to experience the dynamic online dating scene.
Free members at Date.com enjoy features such as free profile postings with photos, access to Date.com's powerful search tools, access to members' profiles, and the ability to flirt with members whom you are attracted to by sending them an "I'm interested" message. Statistically, you'll get 10 times more response if you post photos along with your profile.
Date.com offers many search options to help you find interesting and compatible singles. Basic searches, advanced searches, Date ID searches, and keyword searches are just some examples of the types of discrete searches that are available to all Date.com members. The basic search tool allows you to quickly browse personal ads based on terms such as age, relationship type and location. Advanced searches allow members to tailor their search based on specific details like body type, ethnicity, religion, etc. Date ID searches are only useful when you want to find a specific member based on their Date ID. We like keyword searches the most. It's a fast and effective tool to search for certain keywords in profiles.
Flirting has been with us for ages and we've probably experienced it in one form or another. It's the innocent gaze, the friendly smile, and the famous hair flip (probably just women). It's the non-verbal cues of attraction that stimulates the senses and excites the soul. Although it's not the real McCoy, you can experience this same exhilaration online by receiving an "I'm interested" message. It's an automated message that you'll receive from another member. It's their way to let you know that they have viewed your profile and provides you the opportunity to view theirs in turn. If you find theirs to be just as interesting, be sure to reciprocate the message and see where things lead from there.
Better yet, upgrade your membership to the gold level and send your love interest a personalized email. Let them know in your own words what it was in their profile that caught your eye, the common goals that you may share, and why it deserved more than just a reciprocated "I'm also interested" message. Make it short and sincere, not mushy or lacking of etiquette.
Once you've established a line of communication with this person, you may want to take advantage of the other added benefits of gold membership. Available benefits include one-on-one chats, real time voice communications, access to Date.com's Quickdate search engine, getting top billing in search results, and the changes of being a Date.com featured member.
There are several cost effective plans to select from at Date.com. Based on the length of your subscription period, the cost can be as little as $9 per month and no more than $25 per month. That's a great price when you consider the returns. It's a great price when you consider the possibilities. It's a great price when you consider completeness of finding somebody wonderful. Meeting other singles has never been easier or more fun!
For more information on how Date.com can help you meet singles online, read our Date.com Success Stories.