American Singles just took over the coveted position of being one of the most popular online personals services among U.S. Internet users. With over 10 million fun and exciting singles in their database, American Singles enables quality singles to safely and comfortably meet online to become friends, dates, or even life long partners.
American Singles sincerely believes that there's somebody for everyone and with millions of diverse members from all backgrounds and professions, there is somebody for you. There are many reasons to join and try out the services at AmericanSingles.com. For instance, American Singles is a very user-friendly site and provides many fun and exciting features to help you connect and meet other singles. Plus, the sheer vast number of great singles in their database avails many opportunities for you to truly hook up with someone for romance or friendship.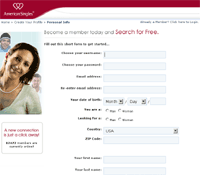 Unless you are a stubbornly introspective person, signing up for your free profile is generally quick and painless. You will be answering questions about yourself, your interests and what you are looking for at AmericanSingles. Since American Single's members with photos get 8 times more emails, it's prudent for you to include photos with your profile.
Starting off from the member's page, you will have access to all the available tools and pertinent information to do some serious AmericanSingles.com surfing. While you are browsing the landscape, be sure to take advantage of AmericanSingle's free and flirty features. First, there is the hot list feature. It is a quick and easy way to let other singles know that you are into their profiles. A second way to flirt online with American Singles is to send teases. A tease is a prepared one-liner message that will help get the conversation started. Like eating Pringles, hot listing and teasing are contagiously fun. But the end effect isn't higher cholesterol; it is a memory lapse of just whom you hot listed or teased. Luckily, American Singles keeps track of this and provides a summary of who you have hot listed, who you have teased, who hot listed you, and who teased you. So go have some fun and let AmericanSingles help keep track of everything else.
While browsing through personal ads, you may click onto a profile that will seem to be a perfect match. You know, the one that just screams Potential! Yes, it is fitting to use the capital P in this case.
Fortunately, American Singles came up with a way to secretly find out if the feeling is mutual. It's called Click. Just look for the Click in members' profile and click yes if you see potential. By clicking yes, American Singles will send that member an email showing a mixed group of members who has either clicked yes to their profile or other members' profiles that he/she might like. If in turn, he/she clicks yes to your profile, American Singles will send you both an Click Alert email so you can take it to the next level. There's also a 'maybe' and a 'no' option as part of the Click feature. Maybe means that you are not sure and that AmericanSingles should remind you later to see if there is a change of heart. Clicking no on a profile will let AmericanSingles know that you are not interested. Of course, all of this is kept between you and American Singles. American Singles will only share this information when there is a mutual match.
Once you have made a connection with an AmericanSingles.com member, what's next? Well, you'll need to take it further with an email or an online instant messaging session. The key is for you to transition from reading personal ads to meeting the person in that ad. Both emails and instant messaging are great ways to learn more about that person while still maintaining your anonymity. It's like a pre-screening process to help determine if you should go out with him/her.
You can do all of this and more when you upgrade to American Single's premium membership plan. The premium membership plan will give you full access to all of the available communication channels like email, instant messaging, and chat rooms. American Singles is also very affordable and competitively priced. A month's subscription to AmericanSingles is less than one night on a bad date. It's definitely more affordable than two nights with the same bad date. Select the plan that is right for you and enjoy the convenience and the exhilaration of meeting other quality singles on and offline for friendship, romance, and more.