Lavalife.com continues to be a global leader in providing technology-based dating services for singles everywhere. It's a dating service that recognizes the many aspects of life that determines the type of person you would like to meet and the type of relationship you want to build. To that end, Lavalife.com offers 3 diverse dating communities: one for casual dating, one for relationships, and one for "intimate encounters."
You can join Lavalife for free, and actually use most of their dating features, which is pretty rare in the paid membership dating site world. Free members can do everything but initiate a conversation. Their profiles can be viewed, they search the site, they can respond to emails and messages sent to them, all that fun stuff.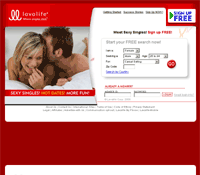 To create a free profile, just provide Lava life with a nickname, an opening line, and a few words about yourself. The 5 minutes you spend typing in this information will give you instant access to Lavalife's 3 dating communities. Just remember to set up separate personal profiles for each community that you joined.
Making a really great first impression with visitors is vital to your online success at Lavalife.com and other singles sites. So try to select photos that projects the fun you, the optimist you and the true you. Members with photos are 7 times more likely to receive messages. With these odds, you can make really great first impressions with 7 times more singles.
Now that you have built up your Lavalife profile, it is time to make a connection. As you can probably guess, the quickest and easiest was to break the ice on Lavalife is to send a smile. This is especially true if the smile is reciprocated. From there, you can send email or IM him/her with a personalized message. Remember, the object of the game is to actually meet. So, don't be shy and opened yourself up through conversation.
Like most other singles site out there, to initiate a conversation, you'll need to be a paying member. Lucky for you, Lavalife is pretty affordable if you want a paid membership. You can join for as little at $17 a month, if you buy six months at a time. Perhaps that's why Lavalife is the place where singles click. See for yourself.