For those who are new to online dating, you may not be aware that there are two distinct dating services categories: casual dating and matchmaking. Casual dating are for singles who enjoy dating but does not necessarily have an end goal of exclusivity. For most, it's a lifestyle that is free from commitments and free from complexity. So, it should be of little surprise that the majority of members on these web personals sites are in their 20's and 30's.
Of course, not every dater is into singlehood. There are those who are weary of dating mismatches, are ready to move beyond casual dates and into dating for love. It is this segment of the population that are turning to matchmaking websites like PerfectMatch.com for help.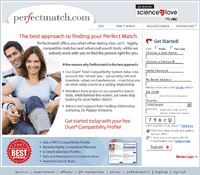 Perfect Match's goal is to provide a rich and dynamic environment for a more mature audience (ages 30 & older) to find not just someone, but the right one. Perhaps that's why more than 68% of their members are more than 30 years of age. And unlike other dating sites out there, PerfectMatch strikes an ideal balance between the sexes (51% of their registered users are female).
So, if life is leading you towards this direction, then consider registering with Perfect Match today. Start your search for someone who is truly special, versus someone who is simply available. Start by filling out the Perfect Match's Duet® Compatibility Profile.
Although the profile process is lengthy, what you get in return makes it all the worthwhile. The profile offers members a path to self-discovery that can help improve their chances of meeting a special someone. Plus, an informative profile is a great way to capture the attention of dating singles that are actively searching for something specific that are not generally included in generic profiles.
Another reason for completing your profile is that it will allow Perfect Match's Duet® Total Compatibility System to find more accurate and successful love matches for you. Perfect matches that will complement you and your lifestyle. But be warn, these love matches don't just happen overnight. Instead, the number of matches and the time lapse between them will vary. However, by exercising some prudence and patient, you will be pleasantly surprised by the quality of single people you meet through their matchmaking system.
Of course, like every other websites in the business of online dating, not everything is rosy. PerfectMatch suffers from bad press and bad reviews. Most of the complaints were they failed to respond to refund requests and generally poor service. For the last 36 months, the Better Business Bureau processed and closed 45 complaints against them. However, PerfectMatch currently is in good standings with the BBB (BBB rating A+).
Now it's up to you to weigh the benefits and limitations of their matchmaking services. Although PerfectMatch.com works hard to position itself as a cheaper alternative to eHarmony and to be inclusive of all singles, some users still had issues with the site. So however you broaden your horizon, take this opportunity to experience online dating and to find the love of your life. And if not with Perfectmatch.com, then perhaps with another matchmaking website.