Although most online personals websites take a laissez faire approach to dating, Chemistry.com does science to the dating game. So if you are serious about finding and meeting your special someone, you should know that there is another choice beyond eHarmony. Simply put, in the ever competitive matchmaking landscape, Chemistry.com is far from being just another relationship site.
Chemistry offers the ever-growing number of singles a new and innovative way to fall in love. The biggest notable difference between Chemistry.com and other online matchmaking sites is that Chemistry has refined the science of matchmaking to go beyond just the fundamentals. At Chemistry.com, they pair Mr. and Ms. Right together based on the foundations of compatibility and chemistry.
Although it's human nature to gravitate to people with similar interests and backgrounds, these fundamentals have more of a potential to create platonic relationships versus romantic ones. To truly connect with a special someone, the relationship must have both elements of compatibility and chemistry. And that's what Chemistry.com is all about.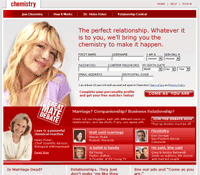 The Chemistry.com experience begins with an exhaustive in-depth personality assessment that is based on the theory of brain chemistry and how it shapes you and your romantic attachments. Known as the Chemistry Profile™, this scientific assessment provides both Chemistry.com and you an in-depth look at the various key factors of who you are, what you are looking for and who you would fall in love with. A word of warning, it can take up to half an hour to complete the assessment questionnaire.
Once completed, Chemistry then starts the process of matching you up with a select group of singles whose personalities and qualities complements your own. You and your match then begin an online dialogue to get better acquainted through some Q&A's and emails. This process will help set the pace for that first face-to-face meeting.
Besides the matchmaking features, Chemistry also offers it's "First Meeting Technology", which is an easily laid-out plan of attack that walks you through setting up your profile all the way to meeting your match in person. After your profile is set up, Chemistry will send over potential matches, which hopefully you'll act on if there's interest on your end.
Chemistry believes in the importance of meeting your matches in person relatively early in the process. So, if you and your match are connecting on many levels and you are ready to meet him/her, then you may be ready to send out the First-Meeting™ request. If it is accepted, then you can use Chemistry's patent-pending scheduling system to help set up the First-Meeting™. The ultimate goal here is for the both of you to meet and assess whether or not there's true chemistry.
After your First-Meeting™, Chemistry.com will ask for feedback. For instance, Chemistry would like to know if you had fun on your date, did your date's profile and photo matched the person you met on your date and are you interested in continuing on with your match.
The value of sharing your feedback is two folds. First, it helps Chemistry better understands your requirements to improve future match ups. Secondly, it gives you personal insights to what you are searching for in a mate, making it that much easier the next time around.
And based on the feedback from both you and your date, Chemistry will let the both of you know if there is mutual interest. If not, it is better to know in the early stages of the relationship versus after some emotional attachment. Of course, if there is chemistry, then you are well on your way to successfully finding that one true love. And just think, it wasn't luck or per chance that brought you both together. It was science and chemistry.
It should also be noted that, as a member, you won't get to search through their entire database of users, only the matches provided by your questionnaire answers, and the site really is set up for serious daters. That is, people seeking long term relationships. If you're looking for some casual fun, Chemistry.com probably isn't for you.
However, if you are serious about meeting someone special, then the downside mentioned above probably isn't a deal breaker for you. And as added incentive, they are currently offering a 14-Day Free Trial. That way you can play with the site a little and get familiar with it, and look through some matches, for free. It's a nice way to test the waters. Overall, if you're in the market for a serious relationship, Chemistry has some real potential. So sign up today and explore the wonders of science at Chemistry.com.