Spark.com is notable because it actually has a useful free tier of membership. The freebie membership will let you communicate with possible matches, which a lot of other dating sites don't allow. You don't have access to the member forums or the instant messaging feature with a free membership, but you can still read and respond to emails, and that's more functionality than you can expect out of some of the major web personals sites.
Free membership allows you to set up your profile, take the Color Code Personality Test, add some photos of yourself, search the membership, read and respond once per to email message, and use the "flirt" and "click" features. These are all good starter features to get the feel of the site and their services.
But once you have made a connection with a member, what's next? Well, the key is for you to transition from searching through personal ads to meeting the person in the ad. This usually means you'll need to start email and IM conversations. These types of interactions are great ways to learn more about that person while still maintaining your anonymity. It's like a pre-screening process to help determine if you should go out with him/her. You can do all of this and more when you upgrade to Spark.com premium membership plan.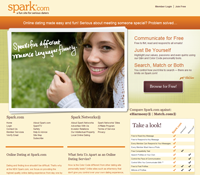 This is when you'll may decide to upgrade to their Subscription membership. As a paid member, you'll get all the freebie features, of course, as well as the ability to initiate email conversations, use the instant messaging feature, and fully participate in the member forums. The ultimate level of access comes with their Premium membership . The ultimate level of service is with their Premium membership where you'll get all the free and Standard perks, plus Member Spotlight, which gets you more attention in different areas of Spark's site, and a highlighted profile in the search results.
Spark offers an extensive user base, so there are plenty of single people to search through as you looks for dates. They cater to all genders and sexualities, looking for any kind of relationship from simple friendship to "friends with benefits" to people looking for marriage and kids. There are plenty of ways to contact people and get to know them before meeting in real life, and Spark also offers privacy controls and the ability to block members from contacting you, so you don't have to fear harassment.
The only real downside to Spark is extensive advertising, even in the paid membership areas, but as long as you don't mind dealing with that, it seems like a pretty good dating site.