Is it getting harder to meet singles that share your passion on strong values and your faith in Christian beliefs? ChristianCafe.com understands your concerns and offers their services as a way to help you achieve your relationship goals within the context of shared religious beliefs and core values. ChristianCafe.com is for Christian singles looking for love, romance, and friendship. Christian Cafe is about your journey and the connections that could lead you to a happier and more fulfilling life. Join them and see how they can serve you.
ChristianCafe.com features thousands of in-depth profiles, photos, anonymous messaging and Christian chat rooms. To take advantage of what ChristianCafe.com has to offer, you'll need to sign up for their no-obligation 7-day free trial. We know what you are probably thinking and it's just not so. You'll get full access to their services and you do not have to divulge any credit card information. Rather, you'll be asked to describe yourself, your leisure activities and your relationship goals. There are also 11 essay questions on various topics that will help your visitors learn more about who you are. At the end of this process, ChristianCafe.com will email the login and password to your personal account. Supplying them with an erroneous email address will definitely impede your ability to experience what Christian Cafe has to offer.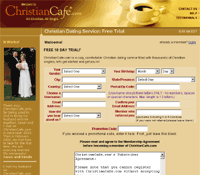 To make the best use of the services at ChristianCafe.com, we encourage you to include photos along with your profile. It really does wonders to a profile in many different levels. It's one of the best ways to really make a great first impression with your visitors. On top of that, it will bring 10 times more visitors to your profile and you'll also receive a 3-day extension to your Christian Cafe free trial period. That's 10 days of full access to profiles, emails and chat rooms! It's a winning proposition that no one should turn down.
After getting your profile at ChristianCafe.com into tip-top shape, it's time to start searching for profiles and meeting some singles. Quickmatch, Search, and New Singles are examples of the types of searches available at Christian Cafe. A good starting point is the Quickmatch search because it quickly locates members who may be of interest based on age, region and Christian faith. A step above Quickmatch is the Search tool. It's a great tool to filter out profiles that do not meet your requirements. Lastly, ChristianCafe also offers the New Singles search. It's a great way to see who has joined the cafe since your last visit.
Now that you've collected a list of singles that interest you, it's time to break the ice and introduce yourself. There are two ways you can do this at ChristianCafe.com, private emails or quick messaging. Private emails are Christian Cafe's version of mail, while quick messaging is their version of instant messaging. Whichever method you decide to use, make sure to let your interest know what it was in their profile that prompted this introduction. If your message is not too long, you can also include the common goals that you may share and invite them to visit your ChristianCafe profile to see if there is mutual interest. If the feeling is mutual, then congratulations are in order for making your first online connection.
Making a connection is the critical step leading to offline meetings. It is also the step that most singles are cautious of because everyone needs time to build a level of comfort and trust prior to that important first offline meeting. This process may last a week, a month, or longer. The time schedule is based on each individual and their feelings towards one another. The problem with this is your trial period may expire before the critical first meeting. So, to continue your correspondence, we recommend that you to convert your free Christian Cafe membership to a paid account. There are several cost effective plans to select from at ChristianCafe.com. Based on the length of your subscription period, the cost can be as little as $9 per month and no more than $30 per month.
ChristianCafe.com has made it more fun and satisfying than ever to meet other Christian singles.
Click to Visit ChristianCafe.com
Still wondering if ChristianCafe.com is the best singles site for you? Read these Christian Cafe Testimonials to learn more about this exciting dating service.