eHarmony is definitely a leading online dating destination for singles all over. As a global leader in relationship building, they are thoroughly focused on providing you with tools and opportunities to make meaningful connections with other highly compatible singles. eHarmony's commitment to bringing singles together has resulted in hundreds of thousands of success stories and marriages.
Please read this inspiring story by former eHarmony.com members, Jessica and Mike. Their story talks about the challenges of meeting singles offline and the reward of meeting their true love online. The success they had and the suggestions they gave could be useful in helping you find true love at eHarmony.com. We hope that you'll experience the same joy and share the same success as Jessica and Mike in your quest for true love.
---
Jessica and Mike Dating Story
Dating Success at eHarmony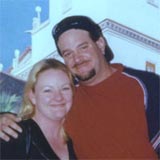 Thank you eHarmony for giving us the tools to find each other. We have been dating for almost three months after communicating through your website for about a month.
We clicked immediately when we met face to face. I have dated using other sites and although my 'matches' and I had many superficial things in common, Mike is truly the first man I've met who shares my communication style, core values and, overall, my way of being and loving. We believe these are the necessities for making a relationship work and it's been wonderful.
We look forward to keeping you up to date as our relationship grows and matures.
– Jessica and Mike Oxnard, CA
---
For more information on eHarmony.com, read our eHarmony Review.
It's easy to get started in online dating. So get things rolling today by Joining eHarmony or reading our article on getting started in online dating.

More eHarmony.com success stories:
---
We're interested in publishing more online dating success stories and true testimonials on Quality Singles. We'd love to hear from you if you have an online dating success story to share with Quality Singles and our readers.