eHarmony is definitely a leading online dating destination for singles all over. As a global leader in relationship building, they are thoroughly focused on providing you with tools and opportunities to make meaningful connections with other highly compatible singles. eHarmony's commitment to bringing singles together has resulted in hundreds of thousands of success stories and marriages.
Please read this inspiring story by former eHarmony.com members, Maria and Michael. Their story talks about the challenges of meeting singles offline and the reward of meeting their true love online. The success they had and the suggestions they gave could be useful in helping you find true love at eHarmony.com. We hope that you'll experience the same joy and share the same success as Maria and Michael in your quest for true love.
---
Maria and Michael Dating Story
Dating Success at eHarmony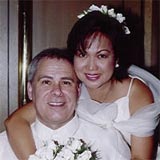 I saw and heard the eHarmony commercials on TV and radio. I wasn't sure if I believed what they claimed, but I'm a believer now. I do think there is such a thing as a soul mate and I've found her. Maria is from the Philippines. How could it be that someone with so much in common would be halfway around the world?
– Michael Butler
Thank you eHarmony for being the link that caused two people of different cultures to find each other. Everything else between us is compatible - values, beliefs, convictions, dreams. Your matching system is truly incredible!
– Maria Butler
---
For more information on eHarmony.com, read our eHarmony Review.
It's easy to get started in online dating. So get things rolling today by Joining eHarmony or reading our article on getting started in online dating.

More eHarmony.com success stories:
---
We're interested in publishing more online dating success stories and true testimonials on Quality Singles. We'd love to hear from you if you have an online dating success story to share with Quality Singles and our readers.