Share something wonderful with the rest of the world, you. Sign up with an internet dating site, such as MetroDate.com, and start meeting great singles that match your interests and desires. It's fun, easy and someone out there is going to be grateful to meet you!
With over half million active members, MetroDate.com has plenty of singles that are waiting to see if you are the one for them. We all know that it's not nice to make people wait! So, log into MetroDate.com and discover the fun and excitement with online dating services.
Meeting singles online may lead to unexpected surprises. Take this story by Ann from Philadelphia about how she met her MetroDate match online and how they've celebrated this relationship at Ann's 60th birthday by getting married. This happy story can be an inspiration to how you can effectively use MetroDate.com, or other online dating services, to meet eligible singles for love and romance.
---
Ann's Dating Story
Dating Success at MetroDate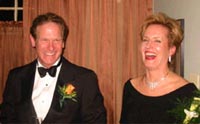 My Metrodate match and I are getting married on March 1 - my 60th birthday! Imagine.
We have each been married before and are thrilled that this time we are going into this commitment with all the right intentions and expectations (or lack of).
Thank you, Metrodate!
– Ann (Philadelphia)
---
For more information on Metro Date, read our MetroDate.com Review.
Getting started in online dating is easy. Why not get things rolling today? Join MetroDate right now, or read our article on getting started in online dating.

More MetroDate success stories:
---
At Quality Singles, we're interested in publishing more online dating success stories. Whether you used Metro Date or have a true testimonial from another dating service, we'd love to hear from you and share your success story with our readers.