ChristianCafe.com is an exciting online singles site that is based on Christian values within a setting of a warm and inviting cafe. Christian Cafe's no nonsense sensibility is genuinely appealing to many of today's Christian singles. Take advantage of the many opportunities and excellent services available at the Christian Cafe to see the difference it can make in your life.
It certainly made a difference in Amanda and Blake's life. Please read their wonderful success story about how they met online and how it led to the amazing relationship they have offline. May their success inspire us and their quest drives us to achieve our own relationship success story. We wish you the best in your dating endeavors. Please come back and share your online Christian dating success story with us and with other singles like yourself.
---
Amanda and Blake Dating Story
Dating Success at Christian Cafe
My wife Amanda and I met on ChristianCafe.com and wed on February the 14th. 2004. We wanted to give you this testimonial.
After being introduced to ChristianCafe.com by separate friends, Amanda and I decided to try out your service, starting in September 2003. As she lived 2½ hours away from me, it would have been practically impossible to meet any other way.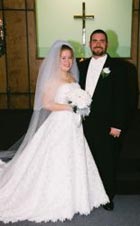 Even before either of our trial memberships was up, we had met each other. We talked for a while through messages and emails, and found that we had a lot in common, including one very important thing: music.
Eventually we decided to meet in person. As soon as we began to really know each other, we both realized that the other was surely the one God had made especially for us. We saw each other every weekend, our dates lasting 12 hours at a time.
On December the 27th 2003 I asked her to marry me and on February 14th, 2004, we were married. She is a great wife who is very supportive of my music ministry, and she tells me that I am the spiritual leader that she has always looked for. We thank you so much for your invaluable service.
Sincerely,
– Blake-stomakmonkee824 (Texas) and Amanda (Texas), May 2004
---
For more information on ChristianCafe.com, read our Christian Cafe Review.
It's easy to get started in online dating. So get things rolling today by Joining Christian Cafe or reading our article on getting started in online dating.

More ChristianCafe.com success stories:
---
We're interested in publishing more online dating testimonials on Quality Singles. We'd love to hear from you if you have an online dating success story to share with our readers.