ChristianCafe.com is an exciting online singles site that is based on Christian values within a setting of a warm and inviting cafe. Christian Cafe's no nonsense sensibility is genuinely appealing to many of today's Christian singles. Take advantage of the many opportunities and excellent services available at the Christian Cafe to see the difference it can make in your life.
It certainly made a difference in Kelly and Colin's life. Please read their wonderful success story about how they met online and how it led to the amazing relationship they have offline. May their success inspire us and their quest drives us to achieve our own relationship success story. We wish you the best in your dating endeavors. Please come back and share your online Christian dating success story with us and with other singles like yourself.
---
Kelly and Colin Dating Story
Dating Success at Christian Cafe
God is absolutely in control, ALL the time. I met my fiancé through ChristianCafe.com on January 13th, 2004, and our wedding is scheduled for January 8th, 2005 in the United Kingdom. Our miracle is even more special because we met over 3000 miles apart in different countries!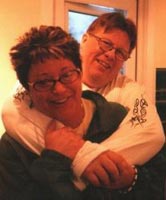 I was living in the USA and investigating a Christian organization in Birmingham, England. I decided to see if any other folks in the Birmingham area knew of this missionary group and my (now) fiancé responded to my query.
Within 2 weeks, I had arrived in the UK. However, as God is always awesome, before I even left the USA, He had let me know that Colin "was the one, he was my soul-mate, and if we did things right, it would be very, very good". I knew that I was in love with Colin and that he was the one for me.
I have met his family in the UK and we've just returned from the USA, and he's met my family. I was just granted my 'fiancée visa', which I needed to re-enter the UK, in order to get married here, another confirmation that God is really in charge here. He can make a way when there seems to be no way!
We give ALL glory and honor to God for His goodness and mercy, and faithfulness in both our lives, and we're both thankful that He used ChristianCafe.com as part of His master plan to bring us together; there's no limit to what God can do!
– Kelly-soldout859 (North Carolina) and Colin-craigbenson484 (United Kingdom), August 2004
---
For more information on ChristianCafe.com, read our Christian Cafe Review.
It's easy to get started in online dating. So get things rolling today by Joining Christian Cafe or reading our article on getting started in online dating.

More ChristianCafe.com success stories:
---
We're interested in publishing more online dating testimonials on Quality Singles. We'd love to hear from you if you have an online dating success story to share with our readers.