ChristianCafe.com is an exciting online singles site that is based on Christian values within a setting of a warm and inviting cafe. Christian Cafe's no nonsense sensibility is genuinely appealing to many of today's Christian singles. Take advantage of the many opportunities and excellent services available at the Christian Cafe to see the difference it can make in your life.
It certainly made a difference in Paige and Dirk's life. Please read their wonderful success story about how they met online and how it led to the amazing relationship they have offline. May their success inspire us and their quest drives us to achieve our own relationship success story. We wish you the best in your dating endeavors. Please come back and share your online Christian dating success story with us and with other singles like yourself.
---
Paige and Dirk Dating Story
Dating Success at Christian Cafe
We wanted to take the opportunity to thank those who provided this website to us as a place to meet, in a context of faith and Christian fellowship. As we write this now, we have been married for 2 1/2 years.
We met in the spring of 2001 on ChristianCafe.com. We went on our first date in June and were married in August of the same year.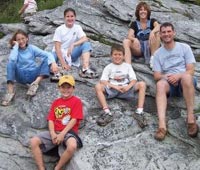 Neither of us usually acts this way, we both tend to take our time with important decisions. It took our friends and parents a few minutes also to comprehend this, but we explained to them that there are definite examples for God using unusual means to work in people's lives.
The result is a wonderful family with four great kids, and a love for one another that just keeps growing. We hope this can serve as a reassurance to those who worry about whom they'll meet. We have found that there are just a whole lot of good people here, and everyone surely has their story, just like any other place, at work, at Sunday School, at the gym. For those who work, or those who might not just talk to anyone, here is a place to be able to share and to learn a whole lot before actually meeting somewhere. Besides hoping to meet that special someone, here is also a chance to connect with other singles who can become friends and support.
Again, thanks, and we have recommended ChristianCafe.com as a great place to come and visit.
– Dirk-vandy180 and Paige, February 2004
---
For more information on ChristianCafe.com, read our Christian Cafe Review.
It's easy to get started in online dating. So get things rolling today by Joining Christian Cafe or reading our article on getting started in online dating.

More ChristianCafe.com success stories:
---
We're interested in publishing more online dating testimonials on Quality Singles. We'd love to hear from you if you have an online dating success story to share with our readers.