ChristianCafe.com is an exciting online singles site that is based on Christian values within a setting of a warm and inviting cafe. Christian Cafe's no nonsense sensibility is genuinely appealing to many of today's Christian singles. Take advantage of the many opportunities and excellent services available at the Christian Cafe to see the difference it can make in your life.
It certainly made a difference in Yvonne and Rodger's life. Please read their wonderful success story about how they met online and how it led to the amazing relationship they have offline. May their success inspire us and their quest drives us to achieve our own relationship success story. We wish you the best in your dating endeavors. Please come back and share your online Christian dating success story with us and with other singles like yourself.
---
Yvonne and Rodger Dating Story
Dating Success at Christian Cafe
I am pleased to tell you that ChristianCafé.com has yet again got it right. I started corresponding to Rodger a year ago and what started out as a friendship contact has blossomed into love. I am delighted to tell you we are getting married on June 12, 2004.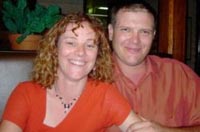 Never would I have thought that signing up with your website would lead me to the partner I will gladly share the rest of my life with. I had to sift through a few prospectives and yet the man for me was sitting right under my nose, waiting for me.
Both of us have had bad experiences in the past and yet we look forward with much joy and gladness to what we see as a union blessed by God. My two boys relate to and respect Rodger, and although life will hold new challenges ahead, the future is looking wonderful.
We both want to take the opportunity of thanking your website and will gladly recommend it to those seeking a partner in life.
Thank you once again!
– Yvonne-browneyedgirl279 (Australia) and Rodger (Australia), April 2004
---
For more information on ChristianCafe.com, read our Christian Cafe Review.
It's easy to get started in online dating. So get things rolling today by Joining Christian Cafe or reading our article on getting started in online dating.

More ChristianCafe.com success stories:
---
We're interested in publishing more online dating testimonials on Quality Singles. We'd love to hear from you if you have an online dating success story to share with our readers.