Is online dating too much of a good thing? Is it the miracle fixer-upper, the inseparable match or the ultimate catch? There are no promises when it comes to online dating, just a proven track record. Proven by the number of active members and the number of success stories. Date.com have over 2 million active members and a long list of success stories. Stories about amazing attraction and ever lasting love.
Please read this wonderful success story by Christieycptwin and Icculus444 about how they met through Date.com. It's the ultimate love story about their Date.com experience and the commitment they've made to each other. Their successful experience with the services available at Date.com is truly inspiring. We wish you the best in your finding your ultimate love story. Please come back and share your experience and success story with us and with other singles like yourself. We love to hear from you!
---
Christieycptwin and Icculus444 Dating Story
Dating Success at Date.com
In early July of 2003 I went on Date.com just to see what was out there. I had no idea I'd find the wonderful person that I did. I browsed through profiles and one caught my eye. It was an amazing looking guy that sounded like someone I would love to get to know. I added him as an interest and when he saw my profile he paid the money to get an account just so he could talk to me. (I didn't find out about that for months later, but it still melts my heart).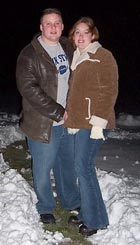 From the first email he sent I knew we had something special. I'd rush to my computer just to check for a message from him, and he did the same for me. Just reading those messages put a smile on my face, I knew he was someone special. After a couple of days we decided to talk on the phone. We talked for hours and hours about anything and everything. The fact that we both had to get up early in the morning meant nothing. Everything he said just clicked for me, there was just something special there that was (and still is) something I can't describe.
He was a little hesitant at first because I am 5 years younger than him and at the time I was two hours away. (I go to school about an hour from where he lives, but this was in the summer so I was in my hometown). It was mostly an obstacle for him because I didn't have a car to drive so he would have to do all the driving.
We both decided it was worth a try, the initial bond was too strong to deny. He arrived at my house at about noon and our date lasted till 3 the next morning. He got lost on his way so we had a little scavenger hunt in a neighborhood near by. I used my parents' car and tracked him down. The second I saw him my heart melted, he was so open, friendly, and genuine. He went right in for a hug and being in his arms felt so natural.
We toured Washington D.C. going to bookstores and malls and anything that caught our attention. We had the most amazing conversation the entire time. Our first kiss was that evening on metro. We were reading a book together that he bought for me (Chicken Soup for the Romantic Soul) and he gave me the most amazing kiss. I still lose my breath thinking about it.
We walked around a lake near my house for hours. Neither one of us wanted the date to end. By now it was about two in the morning and he had two hours of driving ahead of him, so we knew it was time to end it. We got into his car and gazed into each others eyes. I put my hand on his face and he cried. That's when I knew I was in love with him and that he felt the same way. We exchanged our first "I love you" at that moment.
Almost seven months later we are still going strong. He is my soulmate and he makes me feel like the luckiest girl in the world. He has taught me so much, mostly how to love. We've already talked about marriage and kids and our future, we just have to wait to finish school (a year and a half). I often joke that I am jealous of us, but in truth I am. It's hard to believe I found the man I am going to spend the rest of my life with. I have Date.com to thank for our future happiness. Thank you so much! (Let me know if you want to know more about our love and relationship, I could go on for a lot longer, but I didn't know if there was a space limit!) :-)
---
For more information on Date.com, read our Date.com Review.
It's easy to get started in online dating. So get things rolling today by Joining Date.com or reading our article on getting started in online dating.

More Date.com success stories:
---
We're interested in publishing more online dating success stories and true testimonials on Quality Singles. We'd love to hear from you if you have an online dating success story to share with Quality Singles and our readers.