Is online dating too much of a good thing? Is it the miracle fixer-upper, the inseparable match or the ultimate catch? There are no promises when it comes to online dating, just a proven track record. Proven by the number of active members and the number of success stories. Date.com have over 2 million active members and a long list of success stories. Stories about amazing attraction and ever lasting love.
Please read this wonderful success story by SensAZchick and CKSkyDiver about how they met through Date.com. It's the ultimate love story about their Date.com experience and the commitment they've made to each other. Their successful experience with the services available at Date.com is truly inspiring. We wish you the best in your finding your ultimate love story. Please come back and share your experience and success story with us and with other singles like yourself. We love to hear from you!
---
SensAZchick and CKSkyDiver Dating Story
Dating Success at Date.com
I have been a member of Date.com for quite some time and have met many interesting people.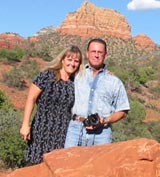 CKSkydiver (Craig) first sent interest and then an email. I was busy and didn't have a chance to respond to his email for a few weeks; I was getting my son ready to leave for college.
When I finally did have time I sent Craig an email explaining the delay in getting back to him. He was very understanding since his job is associated with Financial Aid for college students. The day I contacted him just happened to be one of the few weekends he has off and so we decided to meet at a local restaurant.
We hit it off instantly and have been seeing each other daily since. A few weeks ago Craig told me he loves me and wants to marry me.
I couldn't be happier; we share many interests; he is wonderful to me - very romantic and giving - leaves cards when he goes away for work or will leave a bottle of wine and a card in the refrigerator. My children also love him.
I can't thank you (Date.com) enough for bringing Craig into my life!
---
For more information on Date.com, read our Date.com Review.
It's easy to get started in online dating. So get things rolling today by Joining Date.com or reading our article on getting started in online dating.

More Date.com success stories:
---
We're interested in publishing more online dating success stories and true testimonials on Quality Singles. We'd love to hear from you if you have an online dating success story to share with Quality Singles and our readers.