Is online dating too much of a good thing? Is it the miracle fixer-upper, the inseparable match or the ultimate catch? There are no promises when it comes to online dating, just a proven track record. Proven by the number of active members and the number of success stories. Date.com have over 2 million active members and a long list of success stories. Stories about amazing attraction and ever lasting love.
Please read this wonderful success story by LilRed19 and Bamagus about how they met through Date.com. It's the ultimate love story about their Date.com experience and the commitment they've made to each other. Their successful experience with the services available at Date.com is truly inspiring. We wish you the best in your finding your ultimate love story. Please come back and share your experience and success story with us and with other singles like yourself. We love to hear from you!
---
LilRed19 and Bamagus Dating Story
Dating Success at Date.com
Thanks to Date.com our lives changed for the better on June 9, 2003. On Friday June 6, I received an interest from a man called BAMAGUS. I reviewed his profile, stared at his picture in amazement at the beauty I saw in him from the very beginning. I sent an interest back along with an email letting him know that I was interested and that he was more than welcome to contact me. I didn't think much more about it until I received and email late Sunday night on my date.com email from him letting me know that he was interested as well and left his personal email address. I added him to my MSN messenger immediately. On Monday the 9th, I logged online to check something on the Internet and saw that he was online. I sent him an IM but he didn't have a clue who I was. I gave him a few hints and soon he realized that it was lilred. (I still tease him about that to this day, lol) We chatted online for about an hour or so and then I needed to go get ready for a meeting.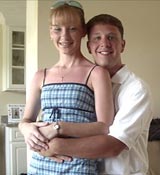 Out of nowhere I got the courage to be forward and tell him what my number was, which was surprising to me because I normally would have never done that so soon after meeting someone. He took my number and sent me a message with his number as well. I again became very forward and asked him if he would mind if I called him once I was ready to leave and talked to him while I was driving to my meeting since I had a while to drive. He was fine with that. We said our good-byes until I called. I couldn't stop thinking about him from that moment on. I was rushing to get ready, anxious to hear his voice, wondering what this man was like. I had the number dialed even before I was in my truck. He picked up the phone on the second ring and once he said hello, I knew I was in love. We talked the entire drive to my meeting. I called him back as soon as the meeting was over. We talked for the remainder of the day and that's where it all began. The next day we talked for about 9 hours on the phone. Getting to know each other, our likes, dislikes, dreams, hopes, what we were looking for, sports. You name it we talked about it. It was amazing to us both how comfortable we were with each other right from the start. We talked about many personal things with great ease.
For the next week when I was not at work or he was not doing something we had a phone to our ear talking and getting to know one another. It was about a week before we actually started talking about meeting in person. We had many ideas of what to do. Him come to Charleston. Me go to Aiken. Finally we decided that we would have more privacy with me driving to Aiken. I got the directions to his house and on Friday June 20, 2003 after I got off work at 7:30am I packed my bags, ran a few errands and hit the road to come meet the man of my dreams. It took a little under 2 hours for me to get there. Once I reached the exit on I-20 I called him so he would be able to guide me in and straight to the house. I pulled up into the driveway, he walked outside to meet me. I opened my car door and that's all she wrote. We stood in the front yard for 15 minutes hugging, kissing, and smiling. We both knew at that moment this was forever.
I spent 5 days with him and cried when it was time for me to leave to head back to work. It's been just over 4 months now and things haven't changed much. We see each other every weekend. Lucky for us I work 3, 12-hour night shifts at the hospital so we get to spend a lot of time together. There hasn't been a weekend go by that we haven't spent together. I have met his family, he's met my family and everyone in our lives couldn't be happier for the both of us. We have talked in great detail about getting married and spending the rest of our lives together. We haven't set a date as of yet but sometime in the summer of 2004 is what we are thinking for wedding plans.
If it weren't for date.com we would not have found this love and friendship we have. We both are very grateful for the service you provided us and making it possible for two lonely hearts in the world to meet and discover their soul mate was just a few miles away waiting to be found. We will definitely send wedding photos for all your customers to see that true love is out there and date.com can help you find it. Our love story is truly a fairy tale come true. I feel like Cinderella who has finally found her prince charming. We have joined our lives together and become a family. Todd, Cathy, Justice and Major (our dogs). One big happy family. Thanks date.com for helping to guide me to my soul mate.
---
For more information on Date.com, read our Date.com Review.
It's easy to get started in online dating. So get things rolling today by Joining Date.com or reading our article on getting started in online dating.

More Date.com success stories:
---
We're interested in publishing more online dating success stories and true testimonials on Quality Singles. We'd love to hear from you if you have an online dating success story to share with Quality Singles and our readers.