Is online dating too much of a good thing? Is it the miracle fixer-upper, the inseparable match or the ultimate catch? There are no promises when it comes to online dating, just a proven track record. Proven by the number of active members and the number of success stories. Date.com have over 2 million active members and a long list of success stories. Stories about amazing attraction and ever lasting love.
Please read this wonderful success story by Biscuit_Tammy and ShawnsUp about how they met through Date.com. It's the ultimate love story about their Date.com experience and the commitment they've made to each other. Their successful experience with the services available at Date.com is truly inspiring. We wish you the best in your finding your ultimate love story. Please come back and share your experience and success story with us and with other singles like yourself. We love to hear from you!
---
Biscuit_Tammy and ShawnsUp Dating Story
Dating Success at Date.com
A few months ago I was looking through profiles and I saw this ID name and clicked on the profile. When his picture came up, I felt a shock run through me and sat back for a second. After a few times going back to his profile, I sent him an interest and went out of there quickly, as I felt like such a dork getting shy when I was by myself at home... You had to be there to laugh.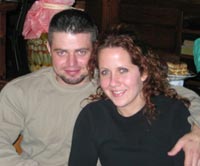 Anyway he emailed me back that night and liked what he read and thought that I looked familiar or that he had met me before. He left his number and finally after a week I called him and left a message, again I couldn't believe that I did something like that!
After a week I was going through my voicemail and his message started playing, I couldn't believe it, I didn't know he had called me right back and for some reason missed it. I called and left a message apologizing for not calling back and that I wasn't ignoring him. He called me the next morning and we had a good conversation. The more we talked, we couldn't figure out how we talked so much and felt comfortable - like we had known each other our whole lives. We had set up to meet on the 20th of December in Vegas (where he lives) since I had never been there before.
As time was passing we didn't want to wait that long, we felt we were falling in love and felt a connection. There was so much that we wanted in life that was similar and our weaker/stronger points seemed to match. We knew we were meant to meet and have each other in our lives for some reason. It's hard to explain how the feelings we have can be so strong. Even without meeting, we felt united.
We set up the first weekend of December to meet in Vegas. We knew that would be our final answer if it was meant for us to be together. We loved each other but had to know if we really had a "partnership" or a "friendship." We both agreed that we would know with one look.
I hopped on a plane (even being terrified of flying) and flew to Vegas. I walked off the escalator and turned the corner and suddenly stopped dead in my tracks!! There, leaning back on the wall, was the most beautiful man I had ever seen. We both stood there and stared at each other. I have never been so sure of anything like I am of us belonging together for the rest of our lives.
We had the best weekend and talked a lot about the future. He bought me a beautiful bracelet and I tried on some rings. The feeling I had standing there with him with a ring on my finger was the best feeling. When it was time for me to leave, we were at the airport and didn't say much. I felt like something died, I didn't want to leave. I already missed him even standing in front of me. The hardest thing was walking away. He sent me a text on my cell saying that it didn't hit him that I was really leaving until he turned around and watched me walking away; he said his heart just sunk. We had told each other how much we loved each other, but it really showed when we had to part. So now the plans are that I will be moving out there in the next few months and start our life together.
We would like to thank you for bringing us together and help us make our dreams come true.
---
For more information on Date.com, read our Date.com Review.
It's easy to get started in online dating. So get things rolling today by Joining Date.com or reading our article on getting started in online dating.

More Date.com success stories:
---
We're interested in publishing more online dating success stories and true testimonials on Quality Singles. We'd love to hear from you if you have an online dating success story to share with Quality Singles and our readers.