Online dating services, including Match.com, continue to grow at an amazing pace because they achieve so much success. To share the joyful results achieved and useful knowledge gained by former users of singles sites, we've collected various online dating success stories on Quality Singles.
Read the article below, We Traded Engagement Rings, the true story of online dating success from a Match.com member. Reading the experiences on how match.com was successfully used can inspire and educate new members to learn how to use online dating services more efficiently and achieve your goals.
---

True Story: We traded engagement rings
By Anna and Michael
Michael and I met on Match.com in January. I'd been a member for four months, and Michael had been searching through the site for free. He signed up for the service specifically to contact me.
I got his email, and saw a quote from the movie "Serendipity" (one of my favorite movies). It caught my attention, and I decided to respond.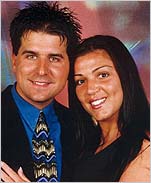 After a week or so of lengthy emails (which eventually included a couple of my photos) back and forth, I gave Michael my phone number, and we got to hear each other's voices for the first time. We clicked right away; the conversation was so comfortable.
We met for the first time on Valentine's Day. As soon as he opened the door, I was taken aback (which never happens to me as I am extremely picky). It was the perfect date. Since then we could not stand to be apart even for one day.
We had been dating for less than three months when he made his intentions known to my mother. I knew that Michael was ring shopping and later discovered he'd designed my ring himself. We were going on a cruise, so I figured he was going to propose then – but he proposed beforehand.
I got to his house and rang the doorbell. He came to the door, opened it and had a strange look on his face with his hand held behind his back.
I asked, "What do you have behind your back?" thinking it was flowers or a card, as he always surprises me with little things.
He said, "I have to ask you something very important ..." and bent down on one knee.
I said, "What are you doing?"
All I heard was, "You're my best friend ..." because I was so busy thinking, "Oh my God!"
Once I realized he was waiting for a response, through my sobs I exclaimed, "YES!"
He slipped the most perfect ring on my finger. I said, "What do we do now?" since they never show that part in the movies. We drove to my house and told my mother. I asked my mother (in Italian) to go upstairs to get his ring (yes, I bought him an engagement ring also). I stood before Michael with my hand behind my back, and I got down on one knee and recited the same words he did to me.
I know now that all those corny romantic movies are possible. I am living the fairy tale that every little girl hopes for and every woman secretly desires. And the rest, as they say, is history, as Michael and I began our new story together as husband and wife this past December.
---
For more information on Match.com, read our Match.com Review.
It's easy to get started in online dating. So get things rolling today by Joining Match.com or reading our article on getting started in online dating.
More Match.com success stories:
---
We're interested in publishing more testimonials and online dating success stories on Quality Singles. If you have an online dating success story to share with us and our readers, we'd love to hear from you.