Online dating services, including Match.com, continue to grow at an amazing pace because they achieve so much success. To share the joyful results achieved and useful knowledge gained by former users of singles sites, we've collected various online dating success stories on Quality Singles.
Read the article below, We Were Fishing for Love, the true story of online dating success from a Match.com member. Reading the experiences on how match.com was successfully used can inspire and educate new members to learn how to use online dating services more efficiently and achieve your goals.
---

True Story: We were fishing for love
By Stephen and Leslie
I first joined Match.com in 1998, right when the service was first launched. Since then, I had been an on-again-off-again member and calculated I had dated approximately 100 men that I met on the site.
I had good dates, great dates, not-so-good dates and some bad dates. It was an interesting experience that taught me a lot about dating and what I was looking for in that special person.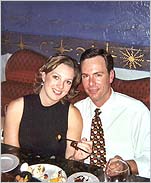 Stephen contacted me in late November, four years later, and we chatted on email back and forth a few times. I immediately noticed the great picture of him holding a trout and enjoyed reading his profile. He said he was impressed that I knew that the picture of the fish was actually a trout.
We decided to meet for the first time at a local brewpub. I would say we had an instant connection. Our quick drink turned into dinner, a few rounds of pool and a very nice, long kiss in the parking lot!
He had to go on a business trip a few days later, but we kept in contact. As soon as he got home, we picked up where we left off and never looked back.
On a trip to Carmel the next spring, he surprised me in a jewelry store by buying an engagement ring that we'd been looking at and that I fell in love with. I thought he might just get the salesperson's card, but he stunned me when he said, "We'll take it!" I couldn't believe it. He told me that he wasn't going to give me the ring then, though. He wanted to call my father and make it official.
Three weeks later, he did. Over a wonderful fondue dinner, he proposed, incorporating the fishing theme into the proposal. We were married nearly one year from the day Stephen first contact me. You could say I landed a wonderful catch thanks to Match.com!
---
For more information on Match.com, read our Match.com Review.
It's easy to get started in online dating. So get things rolling today by Joining Match.com or reading our article on getting started in online dating.
More Match.com success stories:
---
We're interested in publishing more testimonials and online dating success stories on Quality Singles. If you have an online dating success story to share with us and our readers, we'd love to hear from you.